An amazing family surf holiday in Portugal
In recent years, Portugal has been a very popular tourist destination. Portugal is affordable, safe and easy to reach, the people are very friendly, the climate is one of the best in Europe and last but not least: its location facing the Atlantic Ocean makes it a perfect sun, sea & beach destination. And on the west coast of Portugal this means that the holiday is often combined with a water activity such as surfing.
All these things make a surf holiday in Portugal a very popular choice among families. Although it could mean that mom and dad are chilling on the beach while the kids are surfing, it's often actually the parents that are keen to learn how to surf. And when you think about surfing and Portugal, the World Surfing Reserve of Ericeira is the first thing that pops up in your mind.
BUT WHAT MAKES ERICEIRA A GOOD PLACE FOR A FAMILY SURF HOLIDAY?
Wave consistency:
As family, you are often bound to the school holidays. This means travelling during the months of July and August, when the wave-making machine of the Atlantic Ocean is at its least active. In the well-known surf destinations of France and Spain this can mean days, or even weeks, of flat ocean and no possibility to surf. But fortunately this is nearly never the case in Portugal. It is the most swell consistent country in Southern Europe and swell means surf! And within Portugal Ericeira is one of the most consistent surf spots. So here you barely never have to worry about flat days. And that is kind of a good thing when you go on a family surf holiday, isn't it!
Many different surf spots:
Ericeira is known for its diversity of waves for all levels of surfing. The different surf spots are all compressed to a fairly small area. The beaches south of the town are the best ones for beginners and kids since the sand bottom is more forgiving and safer than the reef breaks on the northside of Ericeira. And because children are not as strong as grown-up's, the right surf conditions are extra important for their lessons. No matter the conditions, there is usually a spot where the waves are not too strong. This makes Ericeira and its many different surf spots very suitable for children's lessons. You can find a detailed description of all the surf spots in Ericeira and surroundings in our surf spot selector.
Multiple beaches:
Ericeira is surrounded by beautiful beaches, so it's always possible to find a beach that matches your needs. With small kids, the beach Foz do Lizandro is often the best option to spend the day because here you'll find a calm river where kids can play safely. Also the beach Praia dos Pescadores (Fishermans's beach) is sheltered from the waves and therefore safer for the kids. But as this beach is located next to the center of the town, it can be very crowded. If you are looking for more space and tranquility for your family then the beach São Julião, six kilometers south of Ericeira, might be the best bet.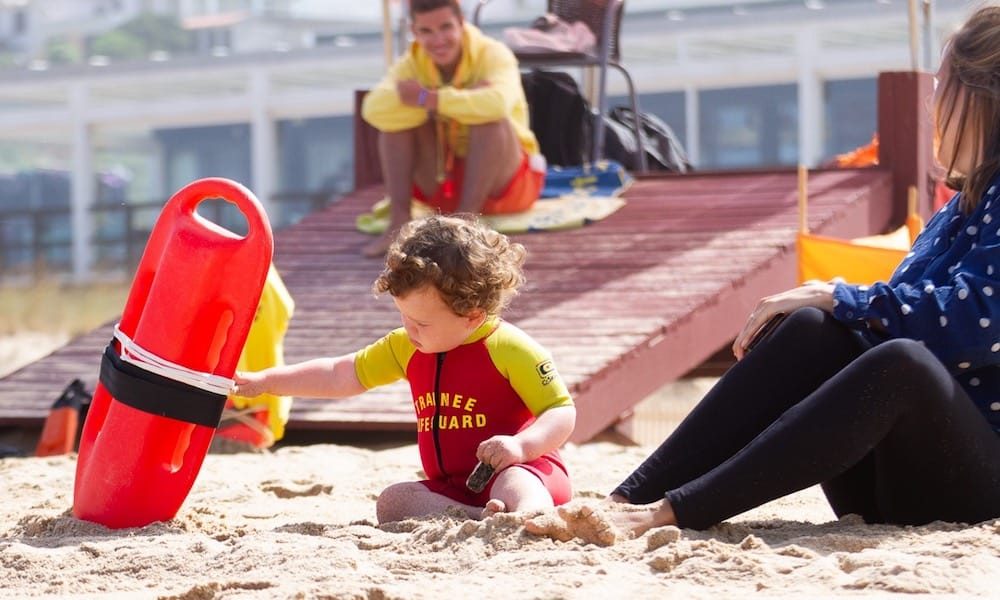 Close to Lisbon:
If you are looking for a surf holiday with the family, it's important to choose a destination that is easy to reach. Flight connections to Lisbon Airport are very good from most European cities. Ericeira is located only 35 minutes by car from Lisbon Airport. It's also possible to use public transport to go from the airport to Ericeira. There is a direct bus connection between Lisbon Campo Grande station (a few metro stops from Lisbon Airport) and Ericeira. However, with kids it's advised to travel by car, shuttle or taxi as these options are much faster and more convenient.
Many activities:
During their holidays most children want to do something active and be outdoors. Surfing is a great option for that, but is often something that is difficult to keep doing the whole day. Therefore it is good to have other options for family activities close by. And around Ericeira there are plenty of things to choose from!
The town is a nice place to visit for a shopping stroll or a lunch in one of the several restaurants. There is also an arcade with pool tables and many other games. Next to the water sports such as surfing, fishing and stand-up paddling, you can also go mountain biking along the beautiful coast, book a horse-riding tour, have a game of beach volley or midget golf with the family. For the boardsport lovers there is a big skatepark right next to the Quiksilver Boardriders shop. Adrenaline junkies can go parasailing or drive a bit further to one of the best go-kart tracks or paintball courses of Portugal! And if your family wants to get cultural the UNESCO World Heritage sites of Sintra and Mafra or the medieval town of Óbidos are just around the corner. Also Lisbon is a great place to visit for a culture and shopping experience. Click here for a detailed list of activities in Ericeira and surroundings.
WHAT MAKES ERICEIRA SURF HOUSE A GOOD ACCOMMODATION FOR A FAMILY SURF HOLIDAY?
Background:
The concept of Ericeira Surf House has always been to create a place for grown-up surfers to go on a holiday. This indirectly includes many families with children. At some point many of us feel a bit 'old' for the traditional surf camps and start looking for an accommodation with better facilities and like-minded other guests. The family-friendly Ericeira Surf House is then a perfect option!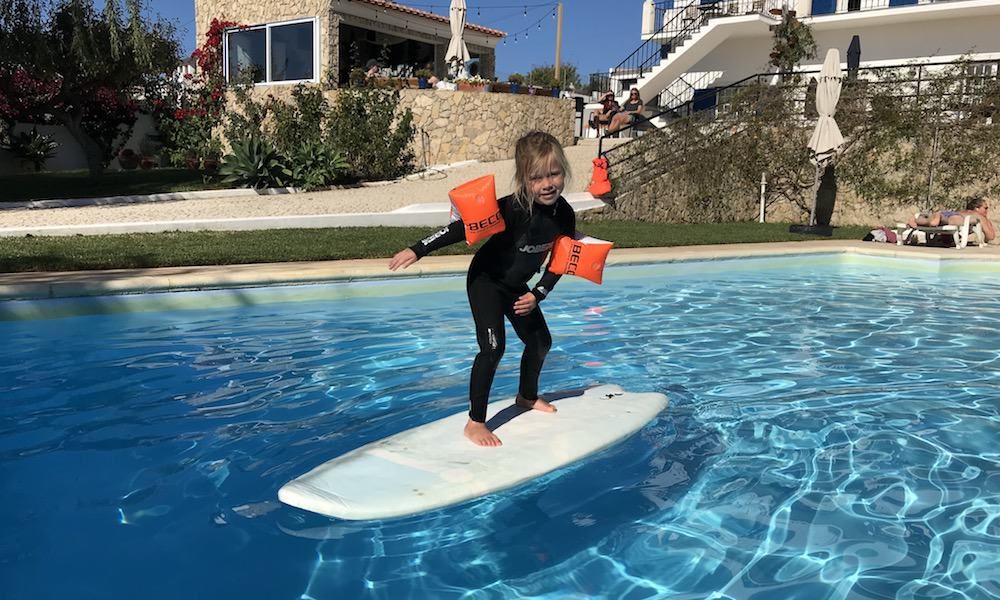 Babies for free, small children with discount:
We know that parents with little kids still want to go surfing and therefore we offer great deals for them. The smallest ones (0-4 years) come along for free. Older children pay half of the price when staying in an extra bed in a room with their parents.
Surf lessons for children:
Our surf school has tons of experience with teaching children and always give them extra attention during lessons. The age when each child can start surfing can differ a lot, but we offer surf lessons starting at 7 years of age. Usually around this age the child can concentrate a bit better and has enough strength to manage different conditions. Safety is our number one priority and therefore it can happen that the smaller children cannot join the lesson with the rest of the group. But we of course always do our best to ensure that they can also have their surf lesson. Our surf school is very flexible and can usually find a surf spot where the waves are not too strong for the children. We always try to find the right beach based on the conditions so that everybody can have the best time on their surf holiday.
Location:
Ericeira Surf House is located on the south side of the town of Ericeira. This is the side with most sandy beaches. Within walking distance from the house is the beach of Foz do Lizandro. This is a big beach with a river mouth. Usually in the summer months the river is not flowing through to the sea, creating a small lake where children can play safely in the water. This makes it the most popular beach among families.
Rooms:
Ericeira Surf House has many different room types to cater the needs of nearly every family. On the ground floor there are two double/twin rooms next to each other on a private hallway. These room share one bathroom and are a perfect option for a family of 4. On the first floor there is a family-room which can accommodate 4 persons. The room has a big double bed and a comfortable sofa-bed which sleeps 2 persons. The private bathroom is big and equipped with a bath tub. From this room there is a direct access to the balcony. Bigger families can choose from different options, for example our 6-person room or multiple double/twin rooms next to each other.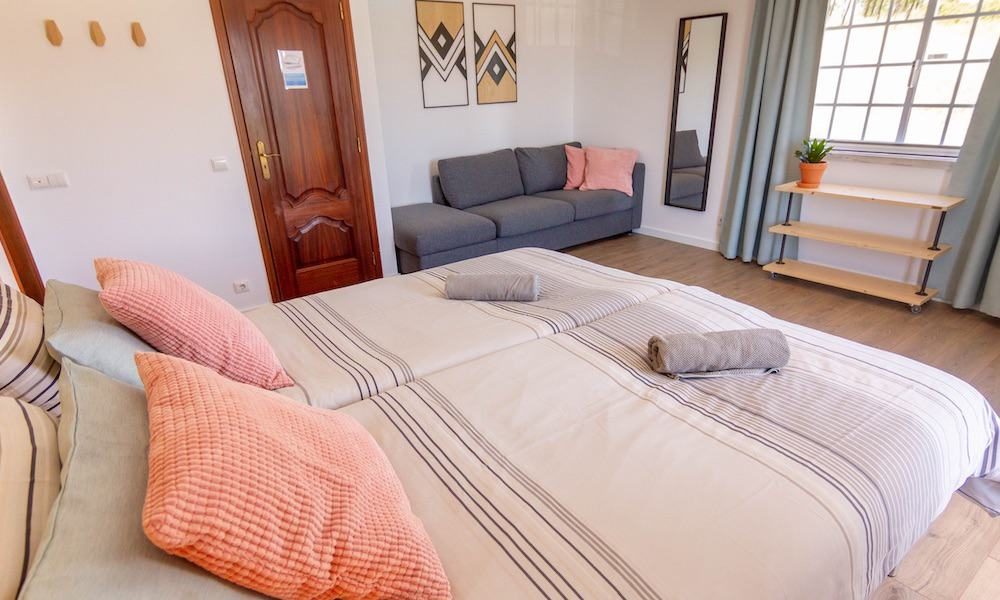 Facilities and amenities:
With different facilities in the house and amenities we provide, we have thought about families travelling with children. There is a big kitchen where you can cook meals for your family and a living room with plenty of books, different games and even a Xbox and Nintendo. Outdoors we have a pool, skateboards, dartboard and many other garden games like petanque and a Finnish skittle throwing game called Mölkky. We have children's bikes and a seat you can mount on the bikes for carrying your child. If you travel with a baby, we have a high chair for babies, baby phone, baby beds and many other basic amenities.
Airport transfers and check-in:
When travelling with children, it is nice be able to keep things moving smoothly without long waits. Therefore we offer our airport transfers also to families. We also always try to make sure the rooms for families with small children will be cleaned first, so that you can check-in earlier.
All in all, a family surf holiday in Portugal is definitely an attractive option. And when you choose to stay in Ericeira Surf House, we will do our utmost best to make sure you and your family will have the best holiday ever!