Ericeira | The best place to learn to surf in Portugal
If you are looking for your first surf holiday, it's quite hard to figure out where to go. There are so many surf schools and surf camps around the world where you can learn to surf, that the first thing you need to do is to decide on a location. If you are looking for a surf holiday within Europe, then France, Spain or Portugal are the places to go. The Atlantic Ocean is a very reliable source for waves and there are not many other places in the world that can match its consistency. This means that learning to surf in Europe can sometimes be quite rough, but this is rather an advantage than disadvantage. Once you learn to surf in Europe, surfing anywhere else in the world feels much easier. While if you start surfing in the mellow waves of for example Sri Lanka, you will have a hard time adjusting to the tougher conditions in Europe.
Within Europe, Portugal is for many the best area to learn to surf since the combination of weather and wave quality is unmatched. The main surf areas in Portugal (with good connections from the airports) are the Algarve in the south, the Lisbon region in the center and the Porto area in the north of the country. Although all these areas have their specific advantages and disadvantages, the Lisbon area is without a doubt the best for most surfers. With Costa de Caparica, Costa do Estoril, Ericeira and Peniche all within easy reach, you can basically surf 360 days a year quality waves. That's every surfer's dream, right?
In the Lisbon area, Ericeira and Peniche are the most consistent. This is very important if you are planning your first surf holiday, since you can't learn to surf if there are no waves. Both Ericeira and Peniche belong to the best places in Europe and you can't go wrong by choosing one of these destinations.
ERICEIRA AS SURF DESTINATION
But let's focus on Ericeira, since that's the surf capital and the first World Surfing Reserve in Europe for a reason. Ericeira distinguishes itself from other surf spots with a very high diversity of waves within a small stretch of coastline. This means that you are always able to find a wave that matches your ability, no matter if you are a total beginner or a pro. For beginners there are multiple sandy beaches on the south side of Ericeira and also some mellow reef breaks on the north side. And although a reef break might sound scary for most of the beginners, they can actually offer better conditions to learn to surf than beach breaks on some days.
The great variety of waves is what makes Ericeira a year-round destination for beginners. When the waves are too big for the beach breaks, the reef breaks can still offer good conditions. And when the waves are even too big for the reefs, the harbour in Ericeira offers good conditions for beginners with low tide.
In total there are around eight surf spots in Ericeira suitable for beginners. It's hard to find this anywhere else in Europe. This is also a big advantage for your surf skills, because you learn to surf with different conditions.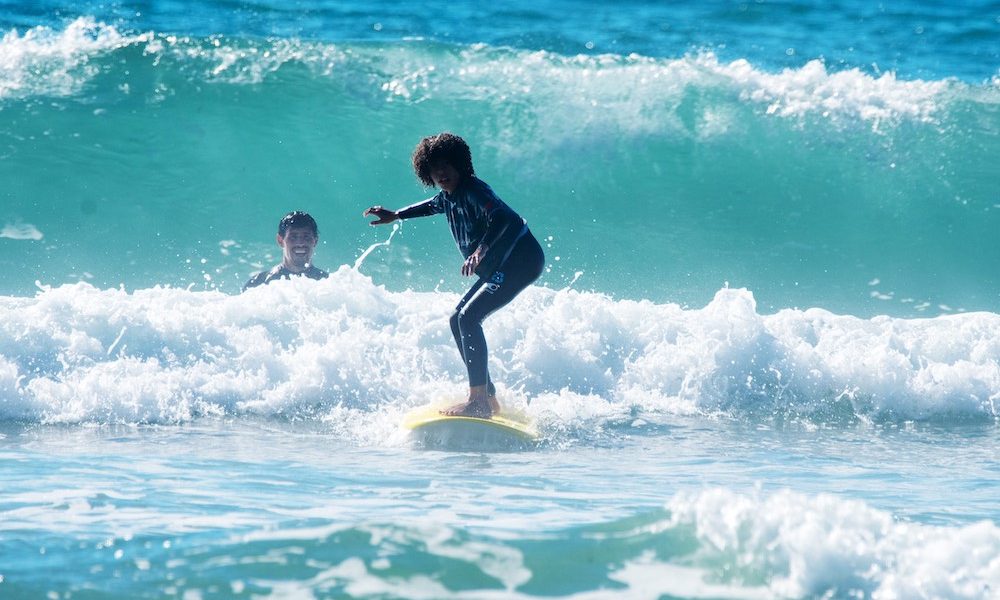 The strict laws make the quality of teaching in Portugal one of the best, with small groups, good equipment, qualified teachers and well-organized lessons. In Ericeira the quantity of surf schools per beach is regulated, so the crowds are spread accordingly. This is of course very important for safety reasons, but also means that not every surf school can teach surf lessons on every beach. That's why it's good to check that the surf school has licenses for the beaches that suit your needs the best.
LEARN TO SURF WITH ERICEIRA SURF HOUSE
Our surf school checks the conditions day by day and decides where to go based on what we see and what the forecast shows. This way you will always surf the best possible conditions for your level of surfing. We offer surf lessons for all levels from beginner to advanced. The majority of our guests are beginners, so you don't need to worry that you will be the only one learning to surf. All our instructors are qualified and the head coaches are born and raised in Ericeira. They know exactly when and where to go and also make sure the surf school has licensed the best beaches. We offer transport between the surf house and the beaches for the lessons, so you don't need to worry about getting to the beach. Our surf equipment can also be used outside the lesson hours. This means that if you want to surf more and the conditions allow so, you are free to go whenever you want. Both the beach break Foz do Lizandro and Praia do Sul are a 15-minute walk from the house. And if you want to make the journey by yourself even more comfortable, you can rent a bike with board rack.
We offer a 3 or 5-day surf course, but it's always possible to add extra days once you have completed the course. Besides the surf lessons in the water, we organize an additional surf theory lesson where we discuss and improve your surfing based on photo analyses. Be aware that we only offer surf lessons in combination with a stay at our house. It's not possible to book only surf lessons with us! This way we ensure the best quality of lessons and equipment for our guests.
If you want to know more about the individual surf spots in the Lisbon area (from Costa de Caparica to Peniche), you can check our in-depth surf spot guide.