You are the king, we are the castle, that is the motto of Ericeira Surf House. It is the perfect place for surfers who want to combine a peaceful holiday in a quality guesthouse with the best possible surf. Surrounded by a beautiful garden with a big swimming pool and a bar, the guesthouse has different types of spacious bedrooms and multiple bathrooms. You don't need to share bathrooms if you don't want to, as there are also ensuite bedrooms available.
To hang around and get to know other guests, there is a big and cozy living room with space to relax or work. There is free Wi-Fi in and around the house. If you feel like cooking your own meals, there is also a fully equipped kitchen available for our guests. The nearest grocery store is just 400 meters from the house.
The guesthouse faces south so the garden and terraces on each floor are sheltered from the dominant and cold north winds. And because of a special micro-climate, it's always warmer at the house than in town or at the beach. This means that you can fully enjoy the sun all day long, even on the cooler days! From both the garden and the terraces you also have a wonderful view over the countryside with the ocean in the background.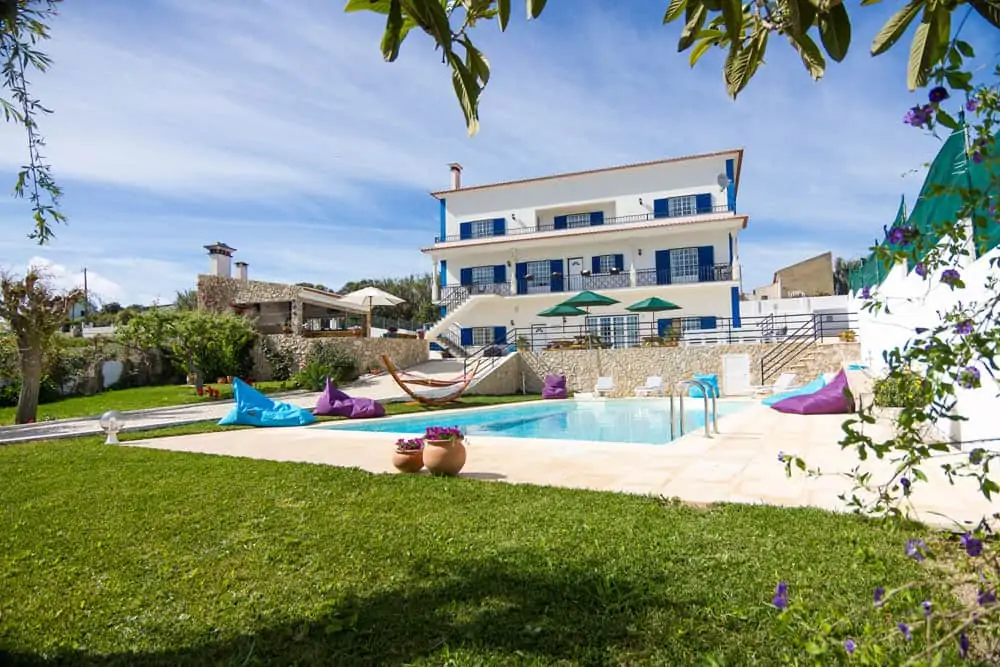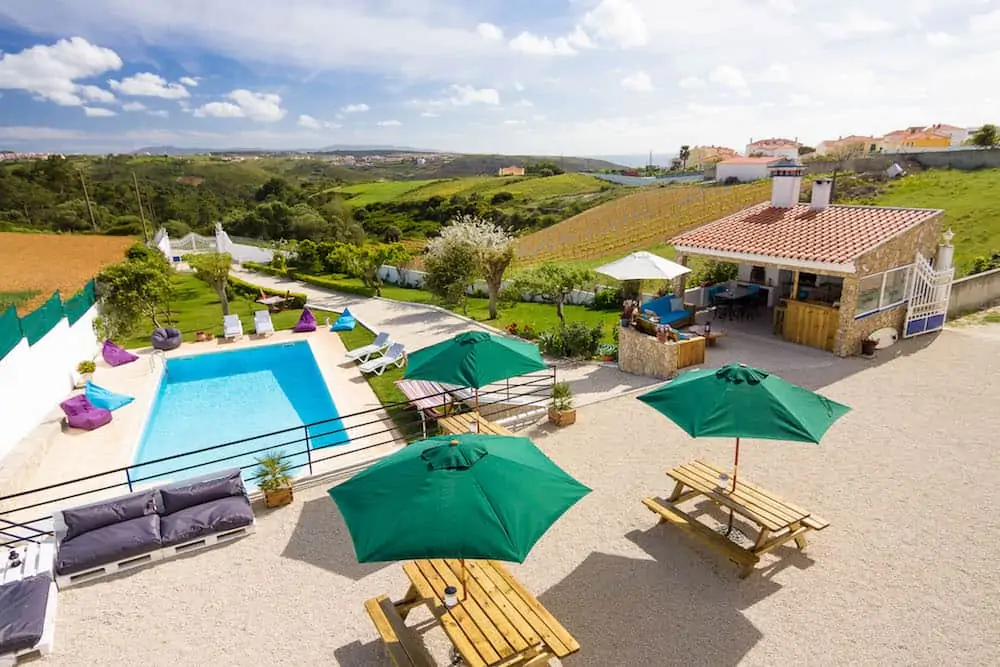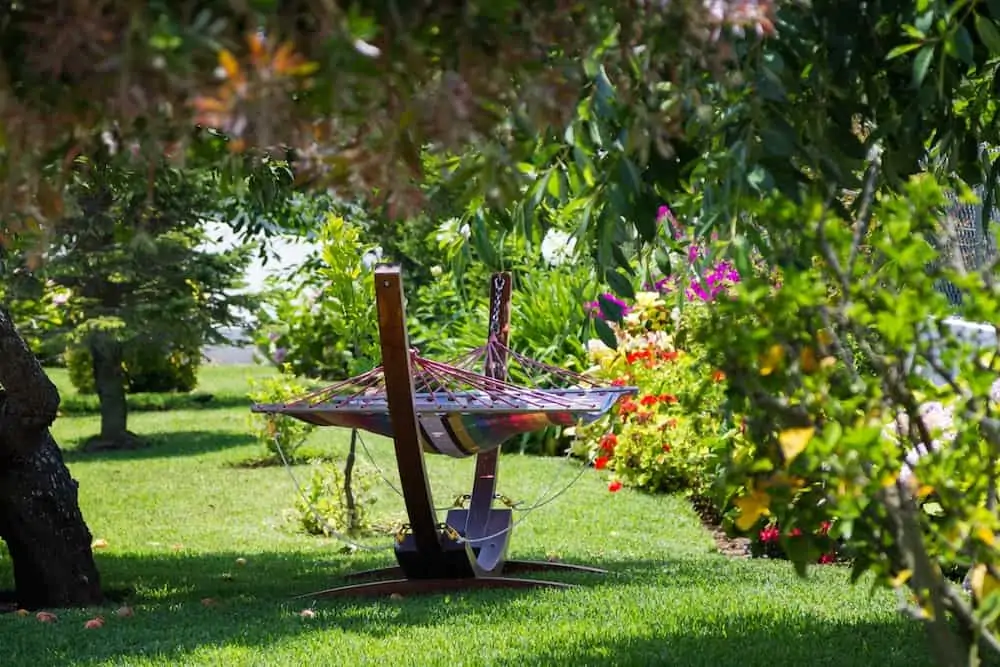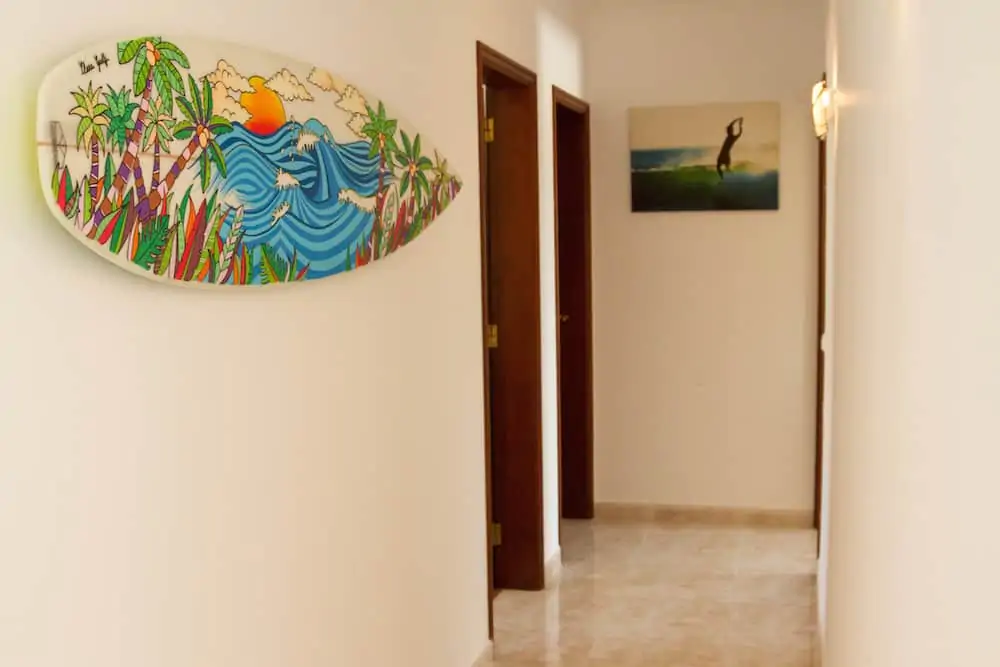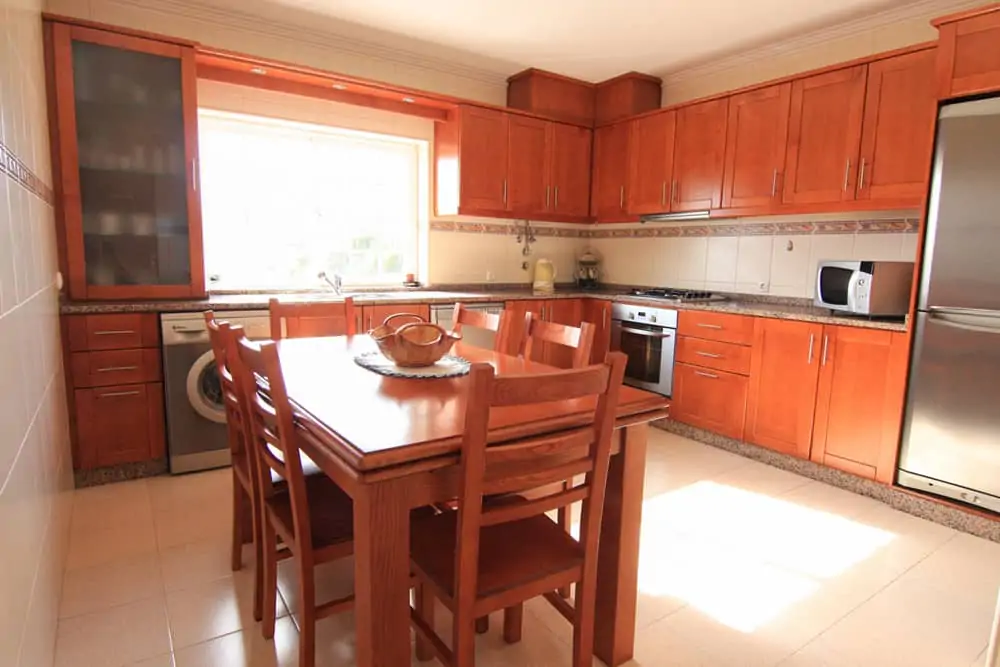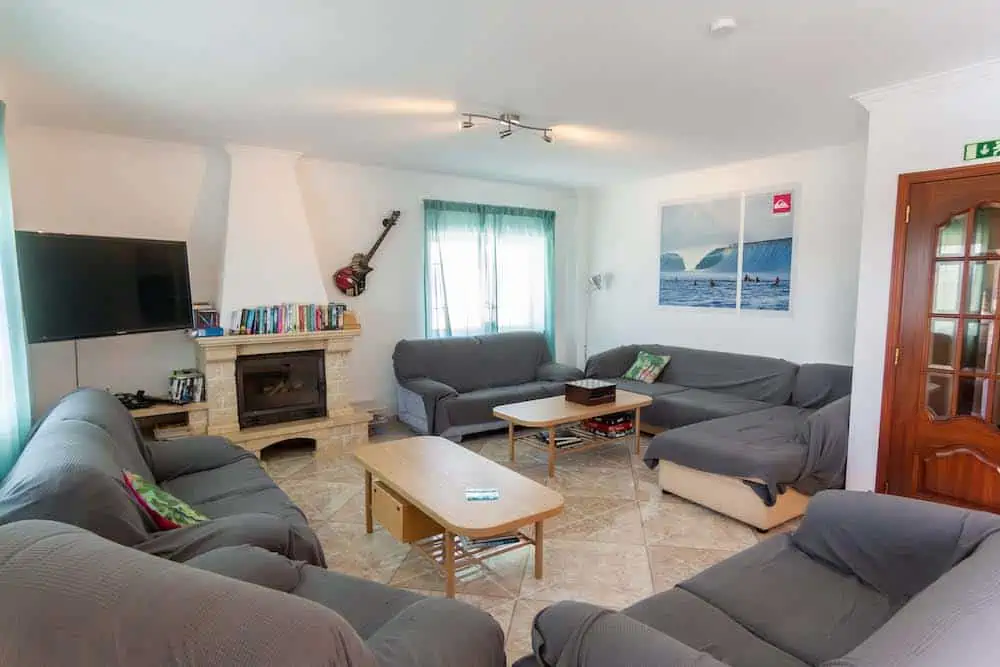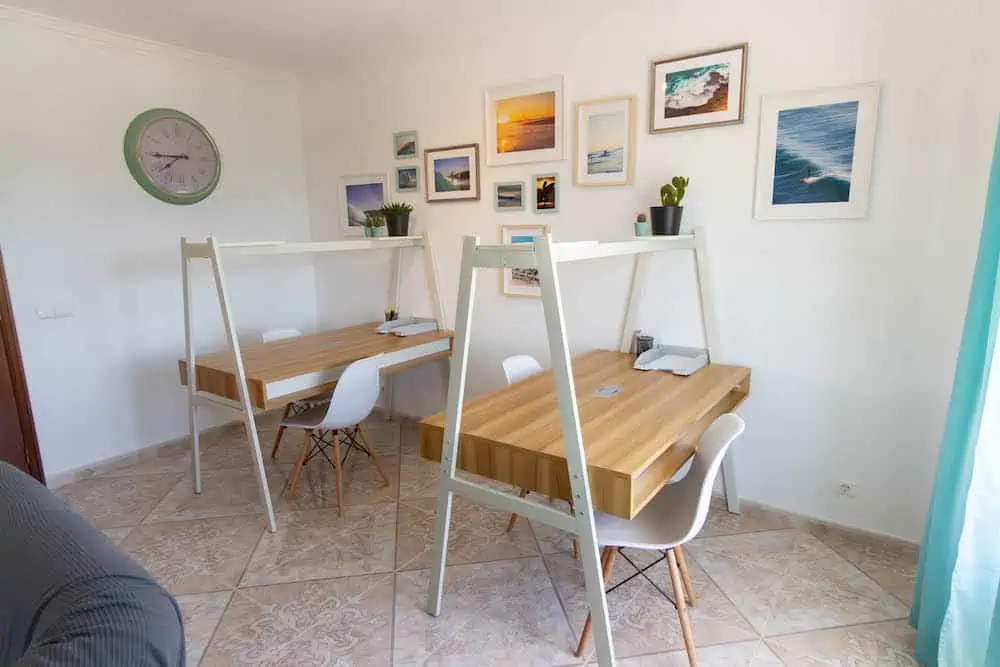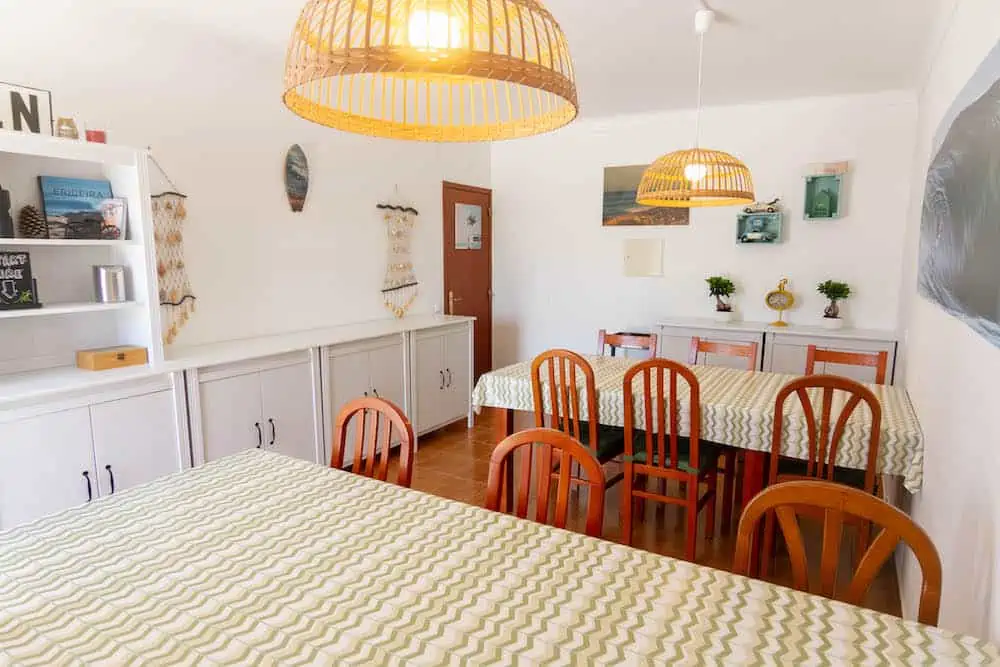 Ericeira Surf House is licensed as Alojamento Local following the Portuguese law and is therefore an official guesthouse that fulfills the legal requirements regarding safety, hygiene, layout and condition of the property.
What to find at the guesthouse?
Select room type for information and prices
Check out our 2nd accommodation with holiday apartments
As surfers we care about the nature. That's why we try to reduce our ecological footprint as much as possible. The guesthouse has for example solar panels that pre-heat the water.
Nothing better than some quality time for your body and soul after some exciting surf sessions. That's why we organize once a week yoga and massages at the house.
Our big garden has fruit trees, multiple places to relax and a 50m2 pool with sun deck. You can enjoy ice-cold drinks in the sun at the pool or simply lay down and do nothing in the shade of the trees.
There is free high-speed Wi-Fi (Fiber) in and around the house. Although you might want to limit your time online during the holiday, it can also be nice to watch some Netflix or combine your holiday with work.
The best possible location
The guesthouse is located just a few steps south of Ericeira in a small village called Fonte Boa da Brincosa. The walking distance to the surf beach Foz do Lizandro, the break of Praia do Sul and Ericeira town center make this the best possible location for your holiday. Also the other famous surf breaks, such as Ribeira d'Ilhas, São Julião and Coxos are within easy reach.
Ericeira Surf House is surrounded by nature. Here you can fully relax after a long day at the beach. No matter how busy Ericeira is during the high season, at the guesthouse you will find peace and tranquility. It's the perfect place to combine a relaxed holiday with the best possible surf. And if you would like to get cultural, Lisbon, the fairytale town of Sintra and the impressive Palace of Mafra (both UNESCO World Heritage Sites) are easy to reach by car. Also Cabo da Roca, the most western point of the Eurasian continent is only 35 kilometers away.
All the good things you want
It's possible to book surf lessons at Ericeira Surf House. We offer a 3-day surf course of 6 hours in total for €120 per person or a 5-day intensive surf course of 10 hours (recommended) for €190 per person. Both courses include unlimited use of surf equipment (also outside the lessons), transfers to and from the beach and insurance. Both courses also include an extra lesson of surf theory with photo analyses. We offer lessons for beginner, intermediate and advanced surfers. Read more about learn to surf in Ericeira, Portugal.
Our Surf House is only a 35-minute drive from Lisbon Airport. It is possible to book airport transfers.
Costs per person per way: 1 person €30, 2 persons €25, 3+ persons €20.
There is a €30 supplement per transfer if your flight arrives after 21h00 or departs before 09h00.
If you come by public transport, we will arrange a pick up / drop off at Ericeira bus station for free (arrival in Ericeira before 21h00).
When staying at Ericeira Surf House, you can also rent surf equipment. We have different boards ranging from performance shortboards to softboards. Costs: €75 per week for a softboard or €125 per week for a performance board. A wetsuit is €25 per week. The surf courses include unlimited use of surf equipment.
Surf skating and surfing are closely related. The muscle memory that you develop on a surf skate will help you learn the correct surfing techniques faster. That's why we also offer surf skate lessons at the surf house for an additional charge. The lessons include equipment, protection and transfers. We also have surf skateboards available to use free of charge if you would like to practise on your own.
Although the beach and the city center are within walking distance of our surf house, a rental bike is handy for the more adventurous surfer. We have rental bikes with board racks available for €75 per week. We offer mountain bikes with 21 gears, so you are also able to explore the mountain bike trails around Ericeira.
Yoga is the perfect addition to surfing, helping with flexibility, balance, breathing and general well-being. A qualified yoga teacher gives classes in the garden of the house at least once a week for €12/session. Exact times and days are communicated at the house and are depending on the weather. The classes are focused on strengthening the body and relaxing the mind and are open to all levels, including complete beginners. If more people are interested, we can arrange extra yoga classes at the house.
Once a week a certified masseuse is giving massages at our house. When you are sore from surfing, a massage is the best way to relax your muscles. The following massages can be booked upon arrival:
Therapeutic back and neck massage (45 min): €40
A back, neck and shoulders relaxing deep tissue massage, perfect to erase stiffness and pain after surfing.
Therapeutic full body massage (70 min): €60
A strong and intense massage that is used for the recovery of the body. Triggers auto regeneration as well as analgesic and immune processes on the body. It helps with the recovery of joint mobility and inflammation. It also restores your energetic balance.
Sound therapy with Tibetan singing bowls (45 min): €45
Metal singing bowls and a gong are used for vibrations that lead to a deep relaxation of the body and mind. This massage influences the central nervous system promoting the treatment of body, joint, muscle and emotional tensions.
Stand Up Paddle (SUP) is a nice way to enjoy the beautiful nature around Ericeira. Together with Ericeira SUP, we can organize Stand Up Paddle Experiences for all levels along the Lizandro river, on the ocean or in the harbour (location depends on the conditions). More information about the trips and prices are available at the surf house.