8 tips for the perfect surf trip to Ericeira
Is Ericeira on your bucket-list for your next surf trip? Then it might be handy to know some in's and out's that can help you make the right choices for your holiday. Knowing when to go, where to stay and what to do can make a big difference when it comes to the perfect surf trip. In this article you can find some insider tips on how to make the most out of your trip to Ericeira.
1. WHAT IS THE BEST TIME TO VISIT ERICEIRA?
First of all, you need to decide on when you would like to travel. Although Ericeira is a year-round destination for surfers, the surf conditions depend a lot on the time of the year. The winter season brings bigger swells and colder temperatures, whereas the summer season is very sunny with smaller waves. Spring and autumn are right in between those two, with favourable wind conditions in autumn, but less crowds in spring. But what is the best time for you to visit Ericeira? This depends a lot on your level of surfing and on your expectations.
Beginners
Since Ericeira has such a great diversity of waves, there is most of the time a surf spot that offers nice beginner waves. The summer season is the best with good conditions at the beach breaks. In the winter the well protected harbour is usually the place to go. Spring and autumn can have good conditions anywhere, also on the mellow reef breaks. If you are coming to Ericeira not just to learn surfing, but also to experience nice and warm weather, then the period from May to September is the best. Here you can find more information on learning to surf in Ericeira.
Intermediates
Beginning intermediates will find the best conditions around the summer months, from June to September. For advanced intermediates the best conditions are outside the summer months, more towards the spring and autumn. Advanced intermediates can also get really good waves in winter, but only on the smaller days. But if you have a rental car and you don't mind driving a bit up or down the coast, all intermediates can find great conditions any time of the year.
Advanced surfers
For advanced surfers the period between September and April is the best time to travel. Most offshore winds and the biggest swells are from November to February. In September and October you can expect the least wind and cleanest conditions.
But of course, this is just a general outline. You can also have great days for advanced surfers in the summer and perfect mellow intermediate waves in the winter. You just need to have a bit more luck.
In our surf spot guide, you can find more information about the conditions of all surf spots in the area.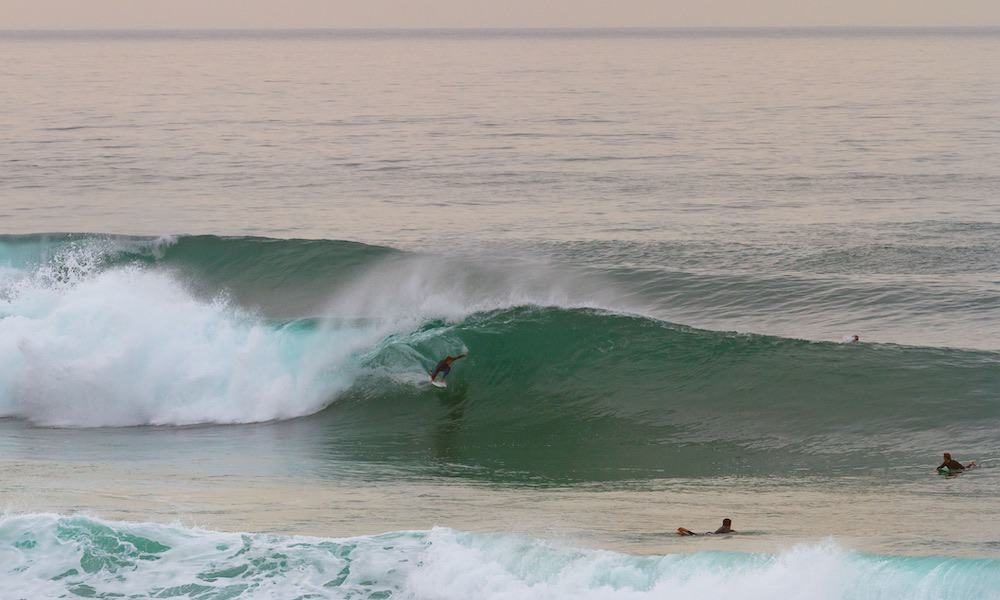 2. HOW LONG DO YOU NEED TO STAY?
The 2nd thing you need to take into account when planning your trip is how long you are going to stay. Since surfing is a sport that is highly dependent on nature, you never know what to expect. Ericeira is a very consistent surf spot, but even in the most consistent place you can have bad luck if you are just planning to come for a couple of days. That's why it's good to stay at least a week so you are able to see the full potential of Ericeira and its breaks.
3. WHERE TO STAY DURING YOUR SURF TRIP?
There are many great places to stay in Ericeira ranging from small bed & breakfasts to hostels and big hotels. What is most important to know is that the best surf spots are not right in the center of Ericeira, but some kilometers outside the town. So, although it might be nice to stay in the busy town center for some people, this is often not the best idea if you are planning to surf as much as possible. In general, the better beach breaks are on the south side of Ericeira and the better reef breaks on the north side. Take this into account while planning your surf trip!
4. HOW TO GET TO ERICEIRA FROM LISBON AIRPORT?
Ericeira is located just 40 kilometers from Lisbon Airport. Although you could also fly into Porto or Faro, this is not so handy because it's at least a 3-hour drive from there. And since Lisbon is the capital of Portugal, there are plenty of connections from all over Europe and beyond. It's nearly always possible to find affordable tickets.
Once you have arrived in Lisbon Airport, there are multiple options to get to Ericeira. You can get a taxi or Uber (€40 to €60), book an airport shuttle with us, go by public transport or rent a car.
If you are planning to travel by public transport, you should first go from Lisbon airport to the station of Campo Grande. The easiest way to do this is with the metro. Once you are at Campo Grande, you can take a bus that brings you directly to Ericeira. The total cost of the journey is around €8 per person. The timetable you can find on the Carris website. Although the connection between Lisbon Airport and Ericeira is quite easy, the downside is the travel time. Depending on the time of the day, it can take you around 2 hours. With a car or airport shuttle the travel time is between 30 and 45 minutes.
If you are planning to rent a car for your surf trip, it's cheaper and more convenient to book this in advance. It's good to know that some of the rental companies are not located directly at the airport, but in the industrial zone around the airport. Only Avis-Budget, Europcar, Goldcar, Guerin (with partners Alamo, Enterprise and National), Hertz (with partners Thrifty, Dollar and Firefly) and Sixt have their offices at the airport. For the other car rental companies, you first need to take a shuttle from the airport. Although this seems like a disadvantage, it can be faster since the queues are often smaller and the shuttle service works quite well. Some affordable car rental companies around the airport are Centauro, Driveonholidays and Interrent.
It's also important to know that in high season there can be long queues when you return the car, so make sure that you have enough time before your flight leaves!
Toll roads in Portugal
For most highways in Portugal you need to pay toll. Car rental companies often give you an option to book an additional electronic device (Via Verde) for the payment of toll roads. With this device you can use the drive-through tollgates and don't need to hassle with the tickets and payments. This saves you some time since you don't need to queue. But some rental companies charge an extraordinary price for this device and it's good to know that in the Lisbon area it's not needed to have one. If you don't mind queuing sometimes, then you can easily do without. But be aware that you always have cash with you, since not all toll roads take foreign cards!
For your surf trip to Ericeira, you don't need to rent a car if you choose an accommodation that is within walking distance of both Ericeira center and at least one of the main surf beaches. But be aware that the better surf beaches are located outside the town so the location of your accommodation is very important if you don't have a rental car.
In the summer months, the beaches from Foz do Lizandro to Ribeira d'Ilhas and the town are connected with a beach bus. For €1 per person you can travel along the coast with your surfboard. But the bus doesn't go very frequently (once every hour), so planning your trip is essential.
Transfers to and from the beach are included in our surf lessons, so you don't need to worry about getting to the beach if you book surf lessons with us. Our accommodation is also within walking distance of Foz do Lizandro, Praia do Sul and Ericeira center. And if you want to explore more of the area, we offer rental bikes with board rack.
For families with small children, people who want to combine their surf holiday with day trips to the beautiful surroundings (Lisbon, Sintra, Obidos, Mafra) and surfers who want to be more flexible we recommend renting a car. With a rental car you can surf 360 days a year if you don't mind to drive a bit up or down the coast.
Renting a car in high season can be quite expensive, but in the winter, spring or autumn it's actually pretty cheap to rent a car in Portugal if you search for the best offer.
6. WHERE TO SURF IN ERICEIRA?
Ericeira is a surfer's dream destination. There is such a great diversity of waves that you are always able to find a surf spot that is matching your level of surfing. For less experienced surfers, spots like Ribeira D'Ilhas, Foz do Lizandro and São Julião are often a good choice. Experienced surfers can find amazing waves at Coxos (right) and Pedra Branca (left). When the waves get small, the beach breaks of Foz do Lizandro and São Julião are the best places to go since they pick up a lot of swell. On the big days, you can go to the harbour (Praia dos Pescadores) or Praia do Sul since these spots are better protected. Here you can find all the details about surfing in Ericeira.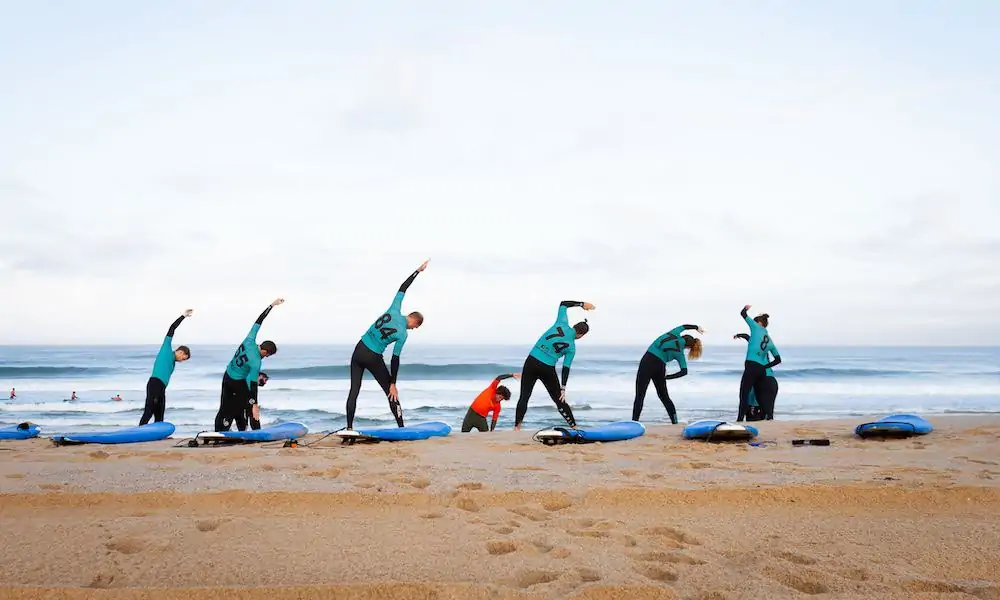 7. WHAT TO DO IN ERICEIRA BESIDES SURFING?
If you are looking to combine your surf trip with other activities, Ericeira is a great place to go. You can find all activities and fun ideas for day trips in Ericeira and surroundings in this article: 20 great things to do in and around Ericeira.
8. WHERE AND WHAT TO EAT?
Ericeira and Portugal in general are famous for their simple, affordable and very tasty food. Typical Portuguese dishes include bacalhau (codfish), sardines, polvo (octopus), percebes (goose barnacles), chicken piri piri and porco preto (black porc). And if you are feeling more like a snack, you should try a bifana, prego or fransesinha. After your surf session, it's also great to eat a pão com chouriço (sausage bread) from one of the many food trucks around Ericeira (the one on the road from Carvoeira to Ericeira is the best!). And since Ericeira is a fishing village, don't forget to taste a simple grilled fish or the famous arroz de marisco (seafood rice). Besides the restaurants in town there are also many famous seafood restaurants just north of Ericeira, in Ribamar, that are worth a visit.
On our page about Ericeira you can find a list of personal favourites.